The story of a family who fought for their home (and sanity) against an evil entity that possessed it – and won.
This story is 100% credible as told by Bob Cranmer, a former army officer
and former political figure in the City of Pittsburgh.
Scheduled to be published by Berkley Books of the Penguin Group (USA) in
August, 2014.
Paranormal State's Ryan Buell: My Top 3 Spookiest Encounters
PRS finally opens up about one of the most influential cases on its own
history. Happening right smack dab in Pittsburgh, PA the "Hell mouth" case
has only ever been hinted at by the investigators before. Now, Ryan Buell
and the rest of the Paranormal Research Society finally closes the case on
one of their most dangerous cases. Join Ryan, Sergey and Eilfie as they
converge once more on the 3 rivers to discuss their experiences with the
case that changed the course of PRS forever.
Evidence gives support to tales of local history in South Hills area.
Buy the Book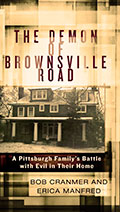 Buy the book on Amazon.
Buy Now
Watch the Video
Discovery Channel documentary "The Exorcist Files", first aired September 12, 2011.