The story of a family who fought for their home (and sanity) against an evil entity that possessed it – and won.
This story is 100% credible as told by Bob Cranmer, a former army officer
and former political figure in the City of Pittsburgh.
Media – Speaking Contact
The Demon of Brownsville Road released on August 5, 2014 in paperback, Kindle, Nook, and soon to be released in audio version by Tantor Audio.
Interview, speaking, or book signing requests by the author should be directed to:
Evidence gives support to tales of local history in South Hills area.
Chilling: Inside a Demon House
Haunted Cranmer house: An eerie ring of truth?
Brentwood home turns into nightmare for family
As seen on KDKA
Ex-County Commissioner Authors Book About Dark Forces Haunting His Home
As seen on KDKA
Local Business Man Describes Paranormal Activity In His Home In New Book
Buy the Book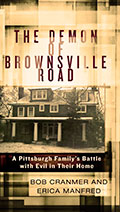 Buy the book on Amazon.
Buy the book on Barnes & Noble
Watch the Video
Discovery Channel documentary "The Exorcist Files", first aired September 12, 2011.